Van Berkel: your full service logistics provider
Call it multimodal, optimodal, synchromodal or – like we do – intermodal transport, ultimately it's about just one thing: ensuring that the right goods arrive at the right place at the right time, and all as efficiently as possible. Van Berkel Logistics takes care of it all for you.
Logistics specialist for container transport and bulk goods
We maintain inland navigation connections between sea ports in Rotterdam, Antwerp, and Amsterdam and our terminals in Veghel, Cuijk, and Oss. We combine those connections with storage and transshipment services and transport from and to the region, including with our own HGVs. We offer two types of logistics service:
Storage, transshipment, and transport of maritime contains for shippers, freight forwarders, and shipping companies
Storage, transshipment, and transport of bulk goods and residual streams for businesses

Get to know us, watch our company film or go to our YouTube channel for more videos.
Three terminals for regional storage and transshipment
Van Berkel Logistics has three transshipment locations in North Brabant – Inland Terminal Veghel, Inland Terminal Cuijk, and Inland Terminal Oss. We maintain eight vessels and organize more than twenty sailings every week, from and to Rotterdam, Antwerp, and Amsterdam. We transport more than 3000 TEU (Twenty-Foot Equivalent Units) to the sea ports in Rotterdam and Antwerp every week. In addition, we operate around 70 HGVs and more than 150 trailers every day to deliver containers to customers promptly. We look after the entire logistics process.
Our contribution to reducing road congestion
At Van Berkel, we understand the impact that transport has on the environment. By taking a responsible approach to our resources, we can help to minimize that impact. In addition, multimodal transport is better for the environment than road transport alone. We work continuously to improve our own as well as our customers' processes. We also do all that we can to reduce CO2 emissions by offering a blend of logistics services. If you'd like to learn more about our CO2 reduction initiatives or how you can work with us and contribute to sustainable logistics processes.

CO2-reduction
Van Berkel Group is certified for level 5 of the CO2 performance ladder. Based on our sense of social responsibility, we strive to reduce carbon dioxide emissions in our business operations. We use the CO2 performance ladder as a tool for this. Our goal is to annually reduce emissions throughout our organization for scope 1, scope 2 and scope 3 by 1% compared to base year 2016.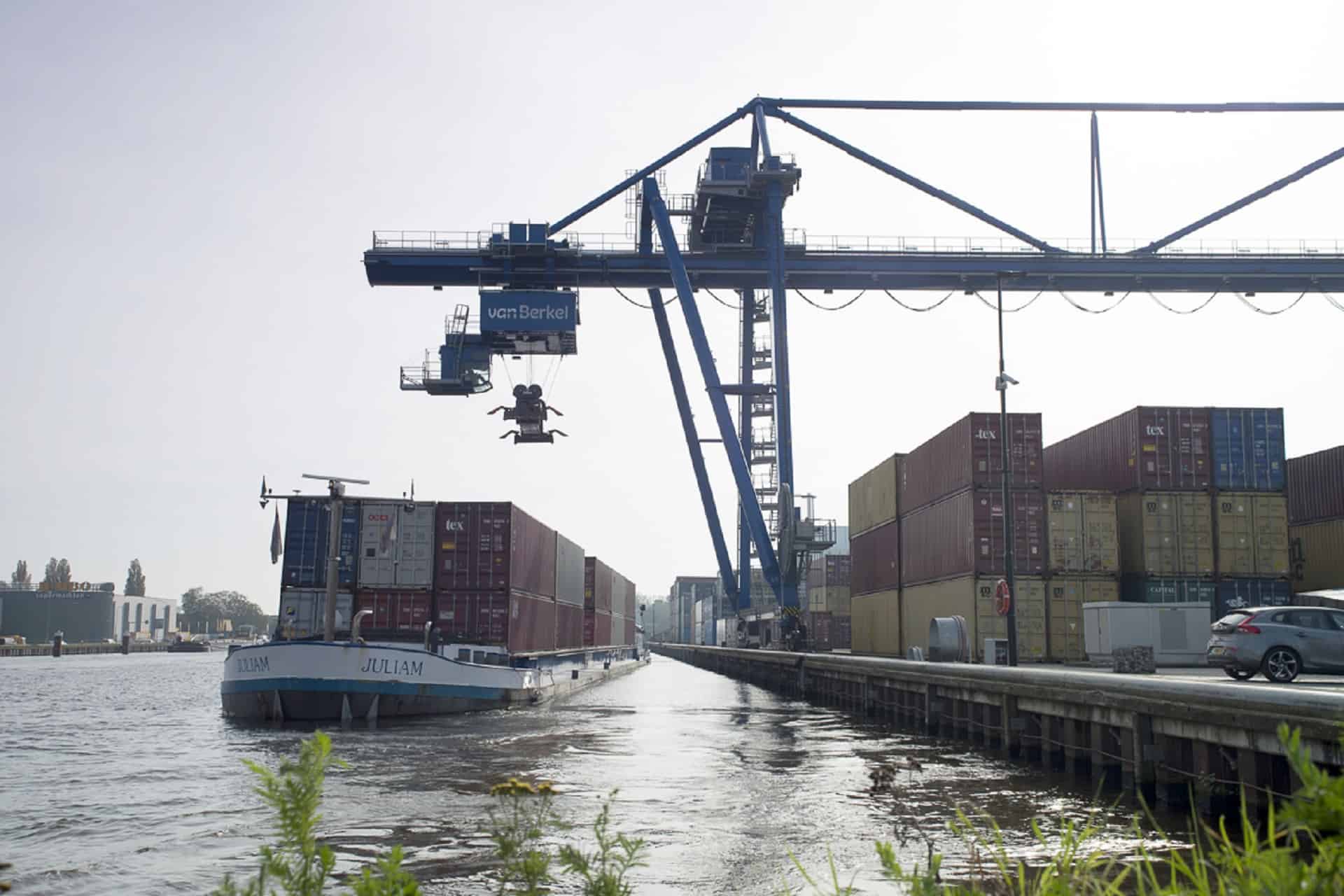 Hands-on by nature since 1955
Van Berkel Logistics is part of the Van Berkel Groep, a Brabant family business. It all started back in 1955 with contract work. Over the years, we have expanded our range of services to include earthmoving and sand extraction, green recycling, and production of biomass and construction materials. We began offering logistics services in 2004. Inland Terminal Veghel was our first storage and transshipment location and we added Inland Terminal Cuijk in 2013. Then, seven years, later, came Inland Terminal Oss. We have grown to become a highly versatile organization, with more than 250 employees, nine locations, and an extensive fleet of machinery.
Certificates
Van Berkel Groep has a sophisticated policy in the areas of quality, health and safety and the environment. This helps us to meet the requirements, wishes and expectations of customers on the one hand, and legislation and regulations on the other. In order to give all these aspects the attention they deserve, we have developed our own Integral Management System. This provides us with the information and tools to meet the expectations of our clients and at the same time continue to tackle them.
Obtaining certificates is not a goal in itself for Van Berkel Groep, but a logical consequence of our commitment to professionalism and awareness.
Fuel surcharge
On top of the rates, Van Berkel Logistics applies a variable fuel surcharge, based on the index of the Central Bureau for Rhine and Inland Shipping (CBRB). This index is an average of the fuel prices for marine diesel along the Rhine between Rotterdam and Basel.
The chart shows the percentage of fuel surcharge per month: